The other day I was blog hopping and came across Home Sweet Farm's
blog
and she had an awesome recipe for home-made laundry soap that I knew I had to try. Living in the middle of no-where, groceries are expensive. Especially the big cleaning products like laundry soap. So how could I pass on an awesome recipe like this one? It's very basic which I like and
very
inexpensive, most people will have all the ingredients in their house.
The ingredients are:
1 bar soap.
1 cup borax.
1 cup baking soda.
I bought the Sunlight pure soap so I would have that "lemony laundry" scent. But you can use whatever you want. Or you could be extemely crafty and use home-made soap ;)
Basically all I did was grab my grater (you could also use a food processor) and grate away until the soap was all finely grated. I figured I should try to grate as fine as possible to avoid any chunks not dissolving in the wash.
Finally I had big sister dump in a cup each of baking soda and borax and she stirred away until it resembled powder laundry soap!
I am so in love with this! You can use 1 or 2 tbsp(s) depending on how big/dirty your load is. I kept the soap in it the bowl I made it in and just put an air-tight lid on it. I had an extra 1/8 cup (2 tbsps) measure that I threw in there and it's works great and is incredibly easy to use. I recommend trying this recipe for sure, it'll be worth your while! :)
~~~~~~~~~~~~~~~~~~~~~~~~~~~~~~~
Wednesday Blog Hops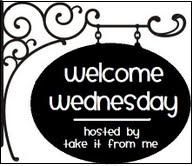 Happy Wednesday Everyone! Have a great day :) :) :)